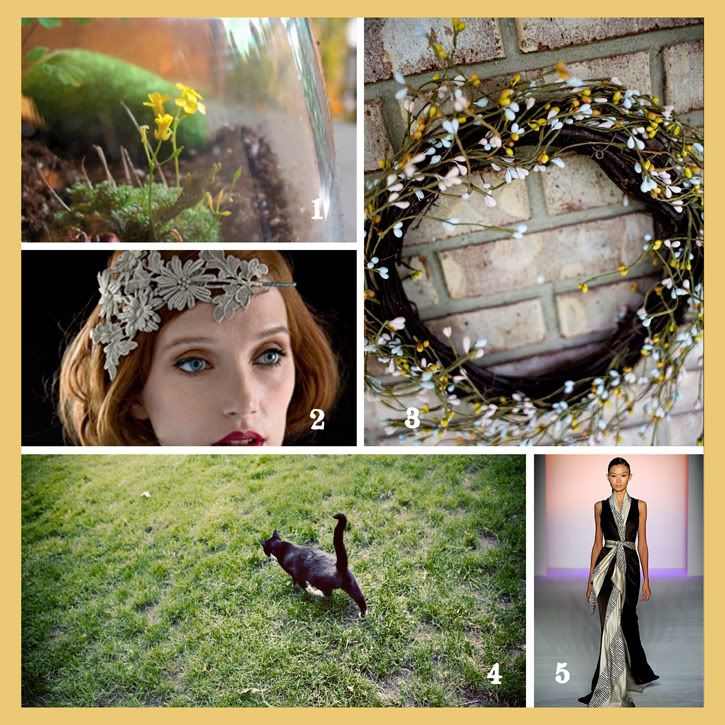 This is an assortment of things I've found and liked. And some of course, are just photos I've taken.
1.
DIY Terrarium
- I've been talking about doing one of these for years, and I think it's time I've buckled down and put together some of these ongoing ideas and projects. I found this
Sprout Home
video demonstration on Design Sponge that was really helpful and motivating. Now, let's see if it will work... :) I like mosses and clovers but I thought a succulent terrarium may be nice as well. Click on the title to see the video.
2.
ban.do
- There are so many nice designs here that you should check out. Or perhaps they will inspire you to create something entirely new! This one is $200. I've been seeing these (in particular, the feathers) as bridesmaids details, which is a really nice idea.
3.
Handmade wreaths
- this one is from L's home. I'm not sure if it was handmade or not, but it looks like the colored wire was added to the branches. It's a good idea to add something to a bought wreath, and I thought this one looked really sweet. Click on the title to go to L's inspiring blog.
4. coco, walking through the grass. She's an indoor cat, but I sometimes let her go on vacation.
5.
Sophie Theallet
- Sophie is a french fashion designer with a sophisticated, bohemian sense of style. I love many of her designs, which I will show you in another collage. She designed for Jean-Paul Gaultier, and now has her own line Motu Tane, named after a Tahitian island.