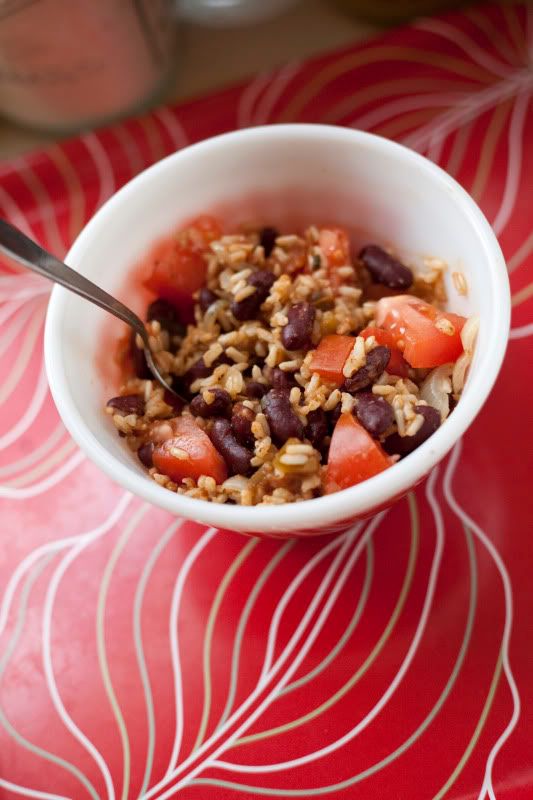 I've been trying to cook more at home, saving money and enjoying winter nights in. It's time for soups and crusty breads, samosa pot pie, and beans and rice! We'll the list goes on, but lately I've really been loving beans and rice. I made the first one with adzuki beans, and then black beans with kale, and last night my roommate made spinach b&r. I found this article online about the balanced-proteins of the two combined, although it's a bit confusing:
"First of all, you should know that all "beans" are not the same in terms of their protein quality. For example, azuki beans are low in the methionine+cystine combination but black beans are not. Likewise, different grains and nuts have very different amino acid profiles. So the conventional wisdom that eating rice and beans together always provides better protein quality than eating beans alone is an over-simplification."
read the whole article here:
nutrition
I've found a few recipes from
Vegan Yum Yum
that sound amazing!!
This one will be my next endeavor:
Tahini Lemon Rice and Beans
Makes one large serving, will double well
1/2 Bunch Kale, de-veined and chopped
3 Oz Seitan, sliced in strips
1/2 Can Black Beans, rinsed and drained
1/2 Cup Brown Rice
Shredded Carrot to taste (1/2 to 1 carrot)
Tahini Lemon Sauce
2 Tbs Soy Sauce
2 Tbs Tahini
1 Tbs Lemon Juice
1 Tbs Rice Vinegar
1 Tbs Worcestershire Sauce
1 Tbs Water
1 Tbs Olive Oil
Start your rice. Whisk together all the sauce ingredients and set aside. Heat a small amount of oil in a saute pan and add kale. When kale starts wilt, add beans and seitan and heat through. Add all the sauce, stir, turn off heat and cover until rice is finished cooking. (You could also wait to make this mixture until the rice is finished cooking.)
When rice is finished, simply add it to the pan and toss to coat. Serve with shredded carrot on top.
* nutrition article by MONICA REINAGEL
* Tahini b&r recipe and photo from VEGAN YUM YUM. click
here
for more recipes.