I wouldn't even know where to start. Let me just preface this by saying nothing has made my heart swell as much as she has. nothing has filled me with such floating, carefree love like she's done. she has given me an imagination, a sense of humor and friendship like no other and i clutch onto it everyday. It begins with memories I am always trying to piece together. My dad being a photographer, documentarian extraordinaire, i am literally able to do this. I have contact sheets of my life, recordings of my martian talk and many baby-constructed sculptures packed away in the studio archives.
my grandpa bought my first solo flight to florida. a summer excursion to play in the beaches with oma. we had gone as a family in a previous summer and stayed in the "white house": a white-tiled, white-walled with bleachy white couches that were potentially problematic for most everyone, especially for us children. Following that holiday, I spent every summer for many years in Lauderdale by the Sea with my dear sweet oma. I call her oma because she is German.
She grew up in Köln. She has amazingly capsulated her memories of this time, sharing bits and pieces, which I try now to document. She has always wanted me to write her story. One day I will. In the midst of the war, she met my grandpa mike, an american soldier who she came back to New York with. I think of her story when she met him in the restaurant they were both working at. Whilst he tried to woo her, he arranged for a night out with a group of the people there, and she remembers how he carried out a tray full of cokes in a bottle, each partly filled with rum and a straw. I can picture this, like an old movie.
She has moved back here with us where we take care of her now. I spend many evenings with my head in her lap where we laugh about our days wearing wigs and fancy clothes, and then cry about a time where she must say goodbye. it is overwhelming... in a good way, because i am lucky to have such an intimate relationship with meine oma.
Sie sind immer in meinem Herzen.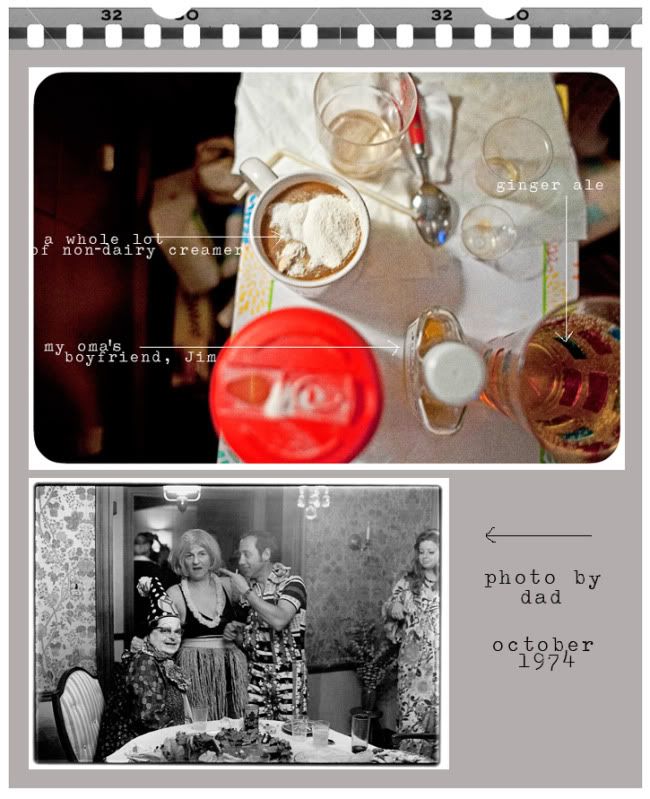 * i took the top photo on December 31, 2009