I suppose that because I'm a photographer, occasionally of weddings, I've become more attentive to the details. Perhaps one day I will be designing my own wedding invitations with dots and a silkscreen print, or a Diana photograph.. who knows. But I've found these details on Design * Sponge that were beautiful:
I'm not sure how this would actually look, but it's nice to see something different, and peacock feathers are always so pretty. Photo from
InStyle
. 
They are in season from January though May, and then again from August through December.  
Peo
nies are available from late Spring to early Summer. I love them in this jar too. A pretty photo from
twelve 11

. 
I would love ranunculus with some wildflowers or thistle.
This pretty ranunculus & rose bouquet with thistle is from
The Knot.
I like the leaves too, probably because it makes it less formal.
They have branches that you can even buy, to add to bunches or make a vase of. They don't have the yellow pom pom flowers though. Does anyone remember what those are called?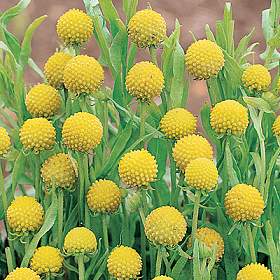 Pineapples? Is this right?
The Seed Man
has these 25 seeds/packet for $2.15! so cute! I need to get some of these and make a wildflower bunch. Wouldn't it be sweet to have someone pick a bunch of wildflowers for you and ride them over to you on their bike? 
more bike rides, fresh strawberries, wheat grass, and fresh rolls.
oh! i found this photo:
This Posies and wild-like bunch are also from Brides.com:
So, I think I've gotten carried away with the flowers suddenly. I could go on too, but there are many other details involved. Here's some lil' cakes from
Martha Stewart
. I like that they are small and have lil' dots, although I would probably use something other than a rose on top. 
I love the colors here, and the tissue pom-poms are so pretty. Laura made some for Gabriella's birthday party and I kept one. (shh). Wait till you see the ridiculous photo I took with it. It makes for a very fancy hat. haha. Take a look at

Martha

's web page for instructions on how to assemble your very own...